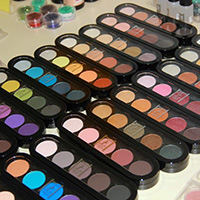 Eyes:
Prime the eyes

Then put a cream colored cream eyeshadow. (I recommend Kitten by Stila.)

Apply a slight crease. DO NOT make it dramatic.

Lastly, taking any kind of black eyeliner, start from ur inner corner, to the end of your eyebrow.
Lips:
Apply a brick red lipstick. (NO GLOSS!)
Cheeks:
Apply a soft tan colored bronzer

And then a higliter.